Why gRIS?
Increase your team's efficiency by getting rid of all excel and share-drive documents and replace them with one integrated online system storing data relevant for all common processes throughout product's life cycle.
Ask for a demo: This is only a brief description of a complex system. Please contact us if you like more information.
A tailor-made system for pharmaceutical companies that guarantees:
for everyone to see current data at any time
to manage budget and timelines of entire portfolio
to control all your registration activities
to launch on time
to generate reports within few seconds
to see how your forecasts evolved over time
to record all your decision justifications in one place
to manage patents, trademarks, QA audits and all other related acitivities
Entire product's life-cycle covered by various gRIS modules

Anna Hanzlikova
Head of RA at PRO.MED.CS
Bc. Šárka Procházková
Development systems & process support manager at ZENTIVA
Özde Ütkür, Ph.D., PMP
Head of Project Management andLaunch Preparation at SANOFI
Robert Khaddour
IT-Manager at QUINTA ANALYTICA
Anđelina Žnidaršić, MBA MPharm MM
Global Product Manager at JGL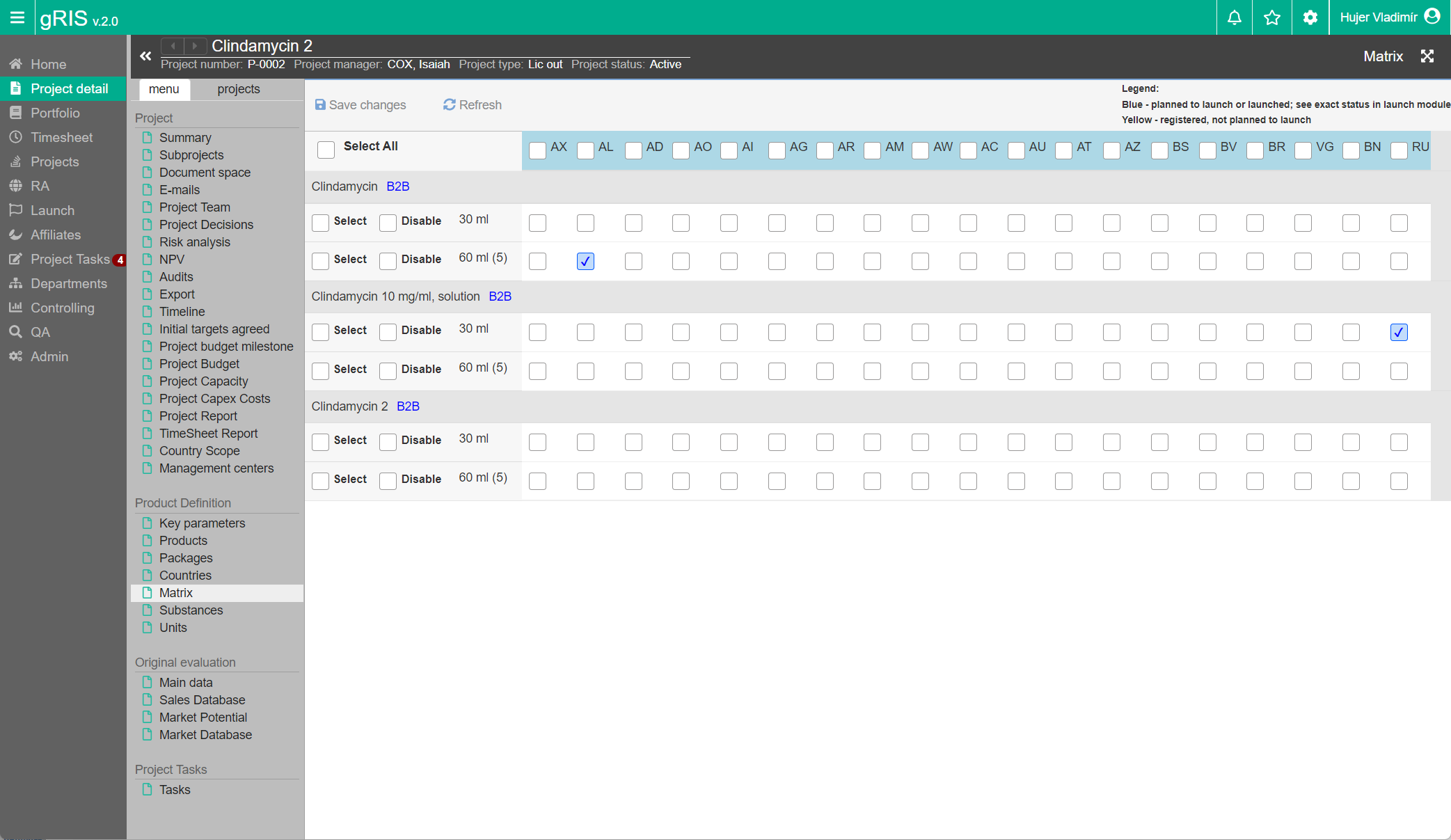 Improved matrix
Upgraded product matrix does not only define product characteristics such as pack size, countries or packaging type but also ensures integration with registration and launch modules with a possibility to differentiate, which SKU's are to be registered and launched in first wave or which ones are to be registered only.  Further details can be added regarding the products to be registered on behalf of license partners.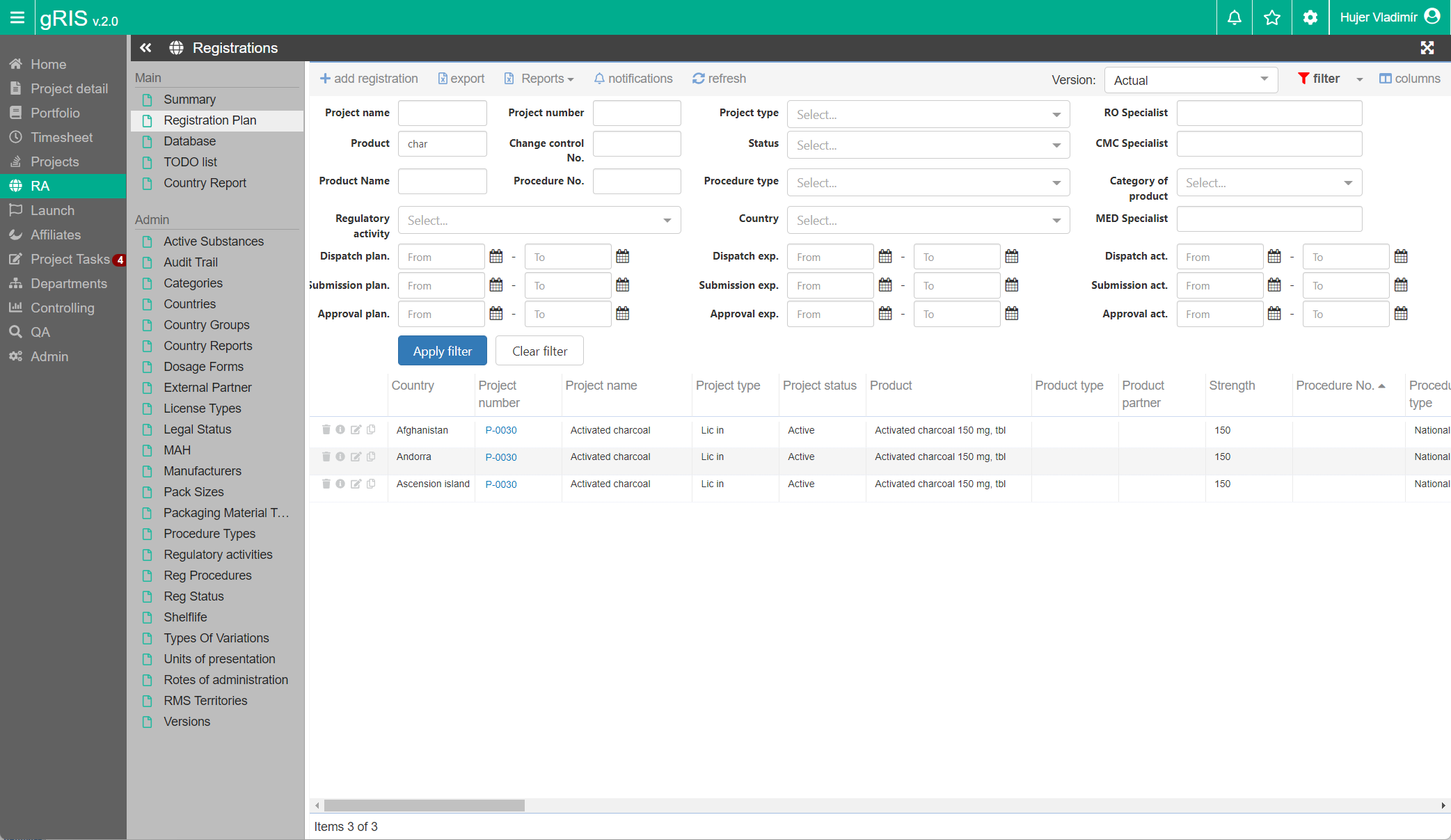 Enhanced RA module
RA module is now capable of planning, executing, and maintaining all possible types of registration activities.  Pipeline products are added automatically onto the registration plan.  Simpler planning can be executed using alerts and notifications, more complex registration activities can utilize project timelines with milestones and reminders.  An effective tool for communication between HQ and affiliates utilizing all available data in gRIS empowers the teams to efficiently exchange information about activities planned by HQ functions but executed locally by the affiliates.
Roadmap
We are constantly working on making gRIS better and safer place for our clients' data. What are we working on right now? Here are some examples of upcoming new features. All of our clients can recieve these updates as part of software assurance for free.
EMA eCTD Integration
We are preparing an update of our RA module in line with EMA's roadmap for eCTC v4.0 implementation in the EU. We are going to utilize all data available in gRIS to create an algorithm for an automatic generation of data package available in a format required by EMA. gRIS is going to have a communication link directly with EMA so a submission according to new requirements can be performed in secured and precise fashion.
API Sourcing management
Extension of the project management module enabling procurement dep. to gather structured information about different API sources, comparing various qualitative parameters, capturing decision making and negotiation process, including contract management.
NPV
We are planning further improvements of project's NPV calculation. Based on the feedback from our clients, we plan to establish a roadmap of milestones at which an updated NPV calculation should be performed, saved and compared with privious calculations. Timepoints of such milestones would be defined by each client and the input data would be harmonized with regular Long Range Plan (LRP) updates.